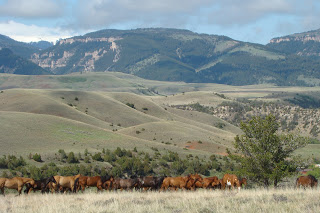 Getting Ready to Bring in the Mares and Colts
Originally posted October 19, 2012.
We are going to gather mares and colts next week and work with each pair in the corral and do the registration markings and take pictures.  This is one of my favorite things to do. I love to see the new babies and how they have grown.  I love to see the mares and the markings and personality they have given to the new off spring.  The weather was beautiful this week?  Rain, sleet, snow, wind, and wonderful sunshine.  We are hoping for something similar this coming week.  I just need sunshine for a hour or so each day for good pictures.