Our Montana Cattle Drive Staff
Iris Bassett- Owner and Guest Communications
Iris is the voice you hear on the Dryhead Ranch phone when you call to ask about what the Dryhead Ranch offers on a cattle drive in Montana. She is also the person on the other end of all the emails while you plan your cattle drive vacation. She is our mother, grandmother, boss, example, and leader/hero.
Jennifer Cerroni- Ranch Manager

Jennifer greets you at the airport and coordinates the comings and goings at the ranch. Jen can do it all but moves in and out of all aspects of the guest ranch needs. The ranch is her office and the guests her mission statement. To put a smile on everyone's face makes her week.

Jake & Jessie Hahn- Head Cowboy

They work more as a family than a team. Their four kids- Maddy, Cassidy, Howdy, and James bring a happy and busy mixture to all of our lives and to the lives of our visiting guests. The kids join in the fun and ride several times a week trailing cattle, horses or just having a friendly conversation with the rider next to them. They give hope and joy to all of us. Jake manages our cows, horses, cowboys, guests, and Montana cattle drives, and Jessie manages him.
Kristen Cerroni Grant – Cowgirl/Office Help

Kristen Cerroni is Jennifer's youngest daughter.  She was raised working at the ranch during the summers while she was in school.  She attended Northwest Community college for two years and received a degree in Horsemanship and Ranch Management.  She helps in the office in the winter and works as a cowgirl during the guest season.
Debbie Cahill – Jen's Right Hand
Debbie is the glue that keeps the right hand together. She keeps up on all the watering, gardening, helps in the kitchen, tends the kids and drives the car when needed. She is our multi-tasking super woman.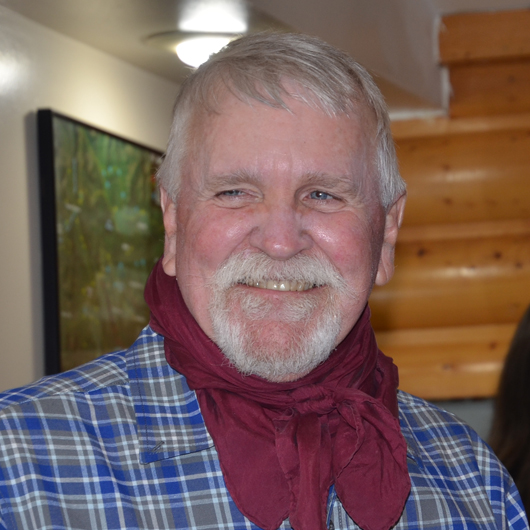 Gary Smith- Cattle Drive Help
Gary comes spring and fall to ride with us on our cattle drives and horse drives. He helps Jake take care of the saddles, horses, and our guests. He is priceless help when it is needed most.
One of my favorite images from MT last summer at the Dryhead Ranch was chosen as the Opening Shot in this month's February 2020 issue of Western Horseman magazine!  Watching James ride Yeller and rope his calf was truly one of the highlights of my trip.  The determination and seriousness on his face is priceless! Lol  Good thing two grown cowboys were nearby to help out. -Pam Gabriel Photography
The future belongs to the few that are still willing to get their hands dirty.  Thanks to all the farmers and ranchers for keeping us well fed. -PhyllisBurchettPhoto
So excited to open the May edition of Western Horseman magazine April 2020.  It be honest, during all of the craziness that is currently happening, it's been very hard for me to stay positive about my small business.  The opening shot couldn't have come at a better time for me!  Stay healthy and happy, my friends!  I hope to photograph you all in the coming months. -Hilary Bishop