Cattle Drive Holidays- Horse Drives



Horse Drives in Montana

Dryhead Ranch has been raising and selling registered American Quarter Horses for over 40 years. We pride ourselves on the fact that the first breath our foals take is in big country with no human assistance. We gather our mares (female horses) only a few times a year; once in the spring to make mare bands, again in the fall to remove the stallions, and the last time in October/November to record all the marking of the foals for registration.
Our horse drives are intended for more experienced riders. Being able to canter for a long period of time is necessary at the start of the day and various times during the day to maintain control of the horse cavvy. A fast pace for a time followed by walking for a time gives horses as well as riders a chance to catch their breath. This is an exciting adventure for our guests and a unique opportunity for horse loving people.
Mini Horse Drives
Our mini horse drives take place in the summer months when grass gets short and they need to be moved to better pasture. Sometimes it is also necessary to remove fresh horses for riding purposes. These mini horse drives are usually slower paced so experienced riding isn't necessary.
When moving our horses we have people leading them in the front as well as behind to keep them together. These weeks are full of various speeds as well as terrain, but as mentioned earlier experienced riding isn't necessary. There will most likely also be cattle work involved during this week also, as cattle need to be checked weekly. A lot of variety and fun, so come see us.
Spring Horse Drive
The Dryhead is home to around 150 head of horses. We raise and train our own stock and strive for excellence in conformation, athleticism, and disposition. Our horses–like our cattle–spend winters in Lovell, Wyoming, and summers at the ranch in Montana. Getting them back and forth provides one of the most unique horseback riding vacations we offer.
Every spring, we trail horses 50 miles to seasonal pastures. Handling a large herd of horses is a different matter entirely than handling cattle. Loose horses are flighty and fast-moving, and have more stamina to cover longer distances over rough terrain than a horse with a saddle and a rider.
Our horse drives are intended for more experienced riders. Often the pace is quick, and fast riding is necessary, at times, to maintain control of the herd. This is an exciting time for us and a unique opportunity for our guests.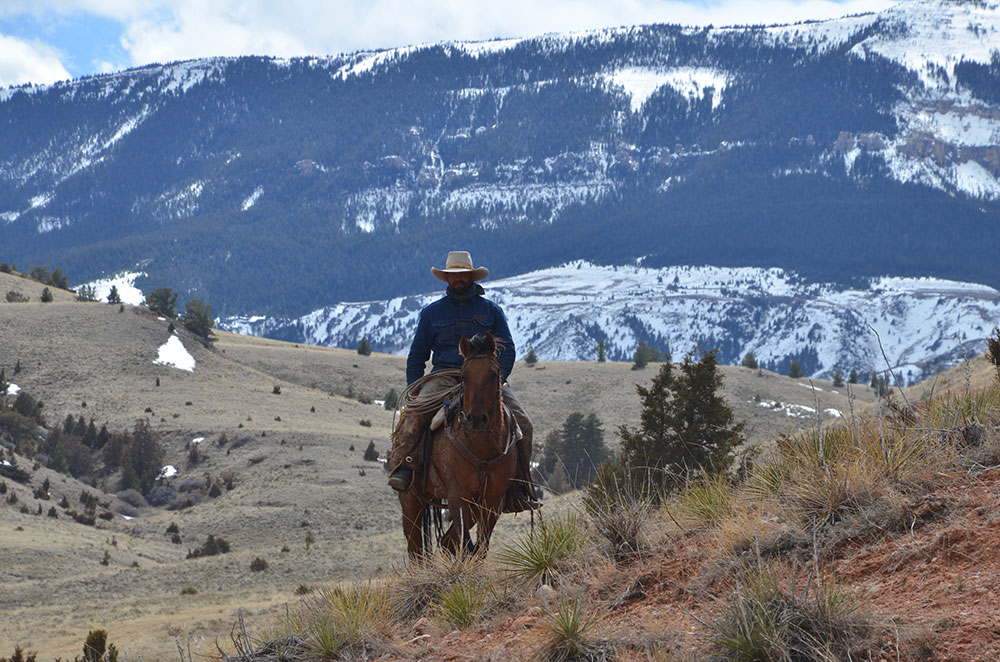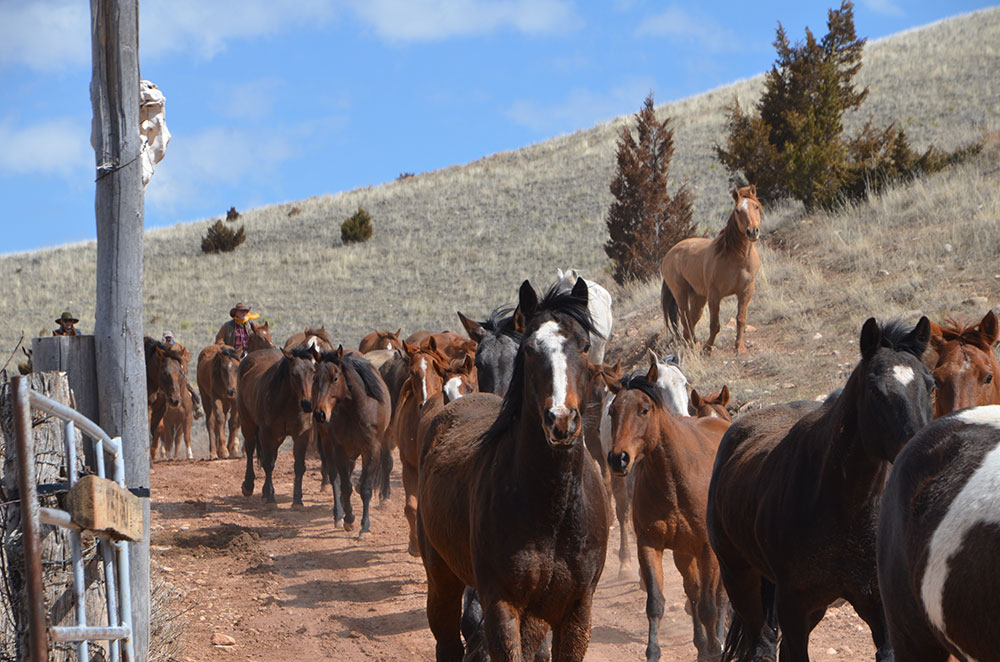 Fall Horse Roundup
In the wild, horses divide themselves into small groups—called mare bands—that consists of several mares of breeding age, their immediate offspring, and the dominate stud chosen to father the upcoming year's colts. The stud will make stud piles to indicate boundaries in which his mare band will stay. The stud will chase off any other horse that comes into his territory.
We strive to mimic the natural way horses interact and divide themselves. Each of the three registered Quarter Horse studs are designated 6 to 12 registered quarter horse mares every spring, in accordance with our breeding program.
Each fall at the Dryhead Ranch, it is necessary to gather and account for the mare bands that have been turned out during the summer. We bring them into our headquarters, sort the mares and colts away from the stud, photograph and record each colts specific markings and color for registration with the AQHA. This is an exciting time when we study that year's colt crop up close: some of them for the first time that year. Specific pictures and the recording of individual markings are required on registration forms. Many ooohs and awes come from the working guests and cowboys alike. This has to be one of the best horse vacations to experience as you are able to handle and see our new colt crop up close.
After sorting and accounting for the studs, mares and colts we keep the studs in the corral, and turn the mares back out on mountain pastures for the winter months at the Dryhead. Our last week of the guest season is a horse drive that takes the young stock, older geldings and mares to Wyoming for the winter. It is the grand finale of our working guest ranch season.