Cattle Drives Vacations – Our 2022 Schedule and Rates



We are thrilled to have you join us at the Dryhead Ranch for an authentic cowboy working ranch vacation. During the week that you ride at the ranch with us you will experience a wide variety of activities: working cattle, gathering cattle, cattle drives, working horses, horse drives, branding calves, mending fences, and our cowboys and cowgirls will teach you to rope. We offer the best horseback riding vacations in Montana. We are real, remote, quiet, and have seemingly endless mountain vistas. We share with you real cattle work and real working cow horses to experience an amazing horseback riding vacation.
Saturday we will return you to Billings. En route we will visit several of the historic sites along the Big Horn Recreation Area: Lockhart Historic Ranch, Devils Canyon Overlook, and the Wild Mustang Museum.
The Dryhead Ranch is located on the Crow Indian Reservation and features one of the largest historic buffalo jumps in the United States. We also have a few Indian Pictographs on the canyon walls and lots of arrowheads and artifacts for the finding. We are required to honor a Federal alcohol-free ruling required on all reservation properties.
2022 DATES & RATES
FOR DRYHEAD RANCH GUEST SEASON
(Each activity requires riding every day)
DUE TOO A HIGH BOOKING VOLUME
PLEASE CHECK OUR FACEBOOK PAGE FOR AVAILIBILITY 
Horse Drives – $1900.00
April 10 – 16, 2022 – Horse Drive from Wyoming winter pastures to Montana Ranch.
April  15 – 16, 2022 – Real Ranch Horse Sale – Billings, Montana.
May 29 – June 4, 2022 – Gathering mares and adding stallions for the breeding season.
October 9 – 15, 2022  AQHA – Registration and weanling colts, putting mares out for the winter.
October 23 – 29, 2022 – Horse drive to Wyoming.
Cattle Drives & Weaning Weeks – $1900.00
April 24 – April 30, 2022 – Trailing cows and calves to Montana Ranch from Wyoming pastures.
(These drives  pass through the Big Horn Canyon Recreational Area, Horse Thief Canyon,  Wild Horse Range, Big Horn Canyon Overlook, Lockhart Lane and into Dryhead Territory and the Crow Indian Reservation).   
May 1 – 7, 2022 – Trailing cows and calves to Montana Ranch from Wyoming pastures.
May 8 -14, 2022 – Trailing cows and calves to Montana Ranch from Wyoming pastures.
May 15 – 21, 2022 – Trailing cows and calves to Montana Ranch from Wyoming pastures.
Sept 18 – 24, 2022 – Gather to bring to the headquarters, cattle to sort, wean, and haul to Wyoming. Pregnancy test and reride pastures.
Sept. 25 – Oct. 1, 2022 – Gather cattle to sort, wean and haul to Wyoming.  Reride pastures to find any cows and calves we have missed.
Oct. 2 – 8, 2022 – Gather cows  and wean calves and haul them to Wyoming.
Ranch Weeks – $1900.00
Branding & Moving Cows
May 22-28, 2022 – Branding, doctoring calves, gathering into the trap to brand.
June 5-11, 2022 – Branding week. Gathering to trap to brand.
June 12-18, 2022 – Branding calves returning pairs to mountain pastures.
June 19-25, 2022 – Finish up branding and take cows to distant pastures.
June 26-July 2, 2022 – Checking horses, doctoring calves and fixing fence.
July 3-9, 2022 Closed over the 4th of July. 
July 10-16, 2022 – Moving Cows to summer pasture.
July 17-23, 2022 – Reserved for Photography week.
July 24-30, 2022 – Doctoring claves, rotating cows on pasture. 
July 31 – August 6, 2022 – Rotating cows on mountain pastures. Training young colts.
August 7-13, 2022 – Training young horses.
August 14-20, 2022 – Riding southern pastures check heifers and mare bands.
August 21- 27 , 2022 – Checking cows on higher pastures. Riding outside pastures.
Fall Gathering Weeks – $1900.00
Aug. 28-Sept. 3, 2022 – Riding outside pastures looking for our cattle. Preparing to wean.
Sept. 4 – 10, 2022 – Gather and moving cows from back side. Ride neighbors.
Sept. 11 – 17, 2022 – Moving cows close to ranch. Sorting off neighbor cattle.
Oct. 16 – 22, 2022 – Getting horses and cattle ready to move to Wyo. for winter.
Important Information About Our Working Ranch Vacation
A deposit of $500 per person is required upon booking to hold a reservation.  It is non-refundable if canceled less than 90 days before vacation date. Balance is due 30 days prior to arrival and is nonrefundable thereafter.  Dates can be changed with emergency situations. All payments should be in US dollars. They can be cash, personal check (with approval), Visa. Mastercard or bank wire.  There is a 3% charge on use of a credit card and Montana charges a bed tax.  We suggest a 15% gratuity. If additional days are desired, we can make special arrangements by email or phone.
There is a transfer charge of $100.00 per person for 4:00p.m. pickup in Billings on the afternoon of your arrival to come to the ranch and we return you to Billings on the following Saturday by noon. We have two places we pick up at 4:00 p.m. on the Sunday of your arrival:  Best Western Clock Tower Inn and the Billings airport.  If you choose to stay at another hotel, please make arrangements to meet us at the airport at 4:00, at Door Four at the west end of the airport.  Our cell phone number is: 307-272-0523. Jennifers cell phone.
Please send us travel arrangements 30 days in advance of arrival even if you are using a booking agent. We don't want to miss you on our pick up route so please send or call your travel plans, airline information, pick up arrangements and driving plans. Please remember to send them when they are final. Thanks.
Dryhead Ranch has a small ranch store that we make available to our guests. It gives you a place to pick up necessary items  for your stay at the ranch and a few gift idea or personal items you may have forgotten.  We have cowboy hats, gloves, chinks, (to buy or rent) western vests (canvas or wool) that our cowboys wear, Dryhead sweatshirts and T-shirts, gift items of horsehair jewelry, Dryhead logo caps and wool scotch caps. We also rent riding slickers (rain coats).
Check the website for a list of "THINGS TO BRING".  Always consider the weather when coming to Dryhead Ranch. Layers are good any time of the year.
There are two types of accommodations where you can stay: the bunkhouse rooms or four separate, private cabins with bathroom. The private cabins are available for $300. per couple and $200. per single person, per week. Our semi-private bunkhouse rooms have two shared bathrooms and each private room has a queen bed, or twin beds to accommodate families or groups. The bunkhouse rooms are included in the weekly cost of our cowboy vacation.  Ask, when making your room arrangements, for what fits your needs.
Dryhead Ranch reserves the right to alter or change any attractions, dates or activities, due to unforeseen circumstances and weather.  However, substitutions of a similar kind will be arranged. These circumstances would include: unfavorable weather conditions, range or pasture conditions, wild fires, and insufficient bookings.  These arrangements are best made by phone. Office phone is 1-307-548-6688.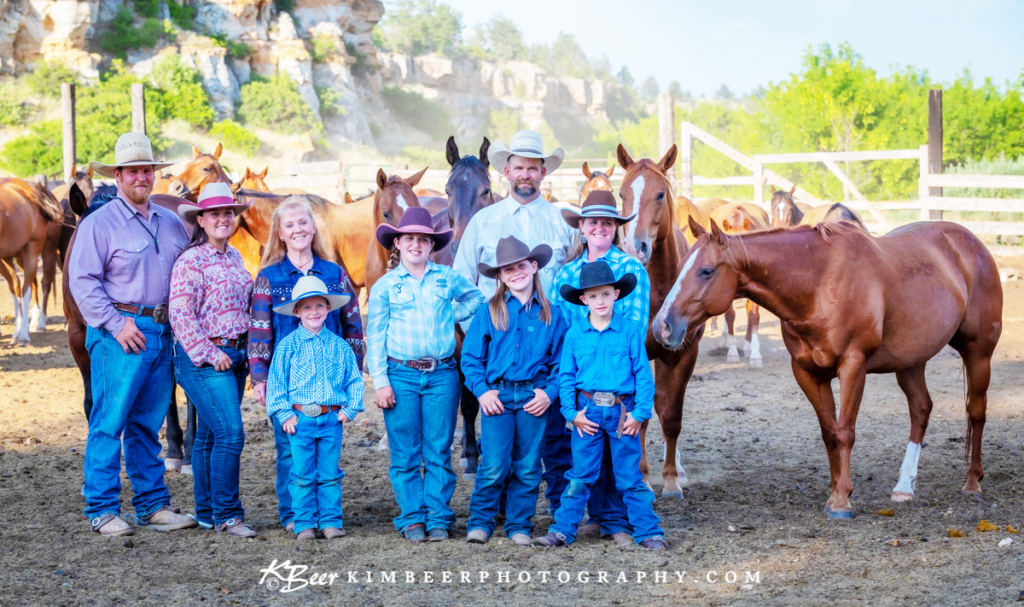 One of my favorite images from MT last summer at the Dryhead Ranch was chosen as the Opening Shot in this month's February 2020 issue of Western Horseman magazine!  Watching James ride Yeller and rope his calf was truly one of the highlights of my trip.  The determination and seriousness on his face is priceless! Lol  Good thing two grown cowboys were nearby to help out. -Pam Gabriel Photography
The future belongs to the few that are still willing to get their hands dirty.  Thanks to all the farmers and ranchers for keeping us well fed. -PhyllisBurchettPhoto
So excited to open the May edition of Western Horseman magazine April 2020.  It be honest, during all of the craziness that is currently happening, it's been very hard for me to stay positive about my small business.  The opening shot couldn't have come at a better time for me!  Stay healthy and happy, my friends!  I hope to photograph you all in the coming months. -Hilary Bishop